May is Here…and so is Spring!
Looking to SELL YOUR HOME? Here are 10 very easy steps to spruce up your spring curb appeal, bringing more attention to your home and helping it compete with others on the market! Once you think your home is ready for market, or even need a few more pointers…Select from our AGENT ROSTER or CALL US TODAY to get the ball rolling!
Brighten your front door.
Give your front door a new coat of paint or maybe even choose a new hue entirely — something bright and colorful that will really pop. You can also add a brass kickplate, a new lock or door handle, or updated address numbers for another easy facelift.
Update your mailbox.
If you have a mailbox in front of your home, consider repainting it, enclosing it in brick, or even swapping it out for a whole new model. Mailboxes take a lot of harsh weather over the years, so sometimes just cleaning them can make all the difference.
Outline your garden.
Adding stones, pavers, or decorative bricks around the outlines of your garden can be a great way to make it pop. You might even think about adding some additional pavers to create a walkway through the garden or to your backyard. These can be both functional and add visual appeal.
Freshen up your shutters.
Shutters, much like your mailbox, can take a beating over the years. If you have some on your home, think about giving them a new coat of paint (maybe in a different color) or replacing or removing them completely. You'd be surprised at the difference it can make to your home's overall aesthetic.
Power wash your sidewalks and driveway.
Power washing certainly isn't fun, but it can do wonders for a dirty driveway or sidewalk. If you have brick on your home (or perhaps a brick patio), power washing can also help clean up those areas too. You can usually rent power washers from your local hardware store, but if you don't feel like DIYing, professional services are usually a few hundred dollars or less.
Replace your mulch.
Winter was likely rough on your mulch, especially if you live in a snowy area. It's probably hard, packed in, and lost most of its color. Fortunately, this one's an easy and affordable fix. Just head up to your nearest garden store, grab a few bags of mulch, and refresh your garden beds. Try to choose a color that contrasts with that stone outline you added earlier. (If you chose light stones, for example, go for a darker-toned mulch).
Add some color.
Bring that happy spring feeling to your exterior by planting some brightly colored flowers or adding a festive wreath on the front door. If you're not a green thumb, you could also add potted flowers to the stoop or hanging plants around the eaves. Both can be a quick and easy way to bring a pop of color without much work or investment.
Clean your windows.
You should clean all your home's windows thoroughly at least once a year, but the ones facing the street? Those deserve extra attention — especially after a long, hard winter. You'll also want to make sure your blinds are in good condition, as these are often visible from the exterior as well.
Make a seating area.
Add a homey feeling to your exterior by installing some sort of seating area. It can be a hanging swing from the front porch, a bench in the garden, or even just a small table-and-chair set near the front door. Make it a place that not only looks great — but a place you can enjoy and spend time in as well.
Tend to the lawn.
If your lawn is looking a little beaten down after the winter weather, get it back on a watering schedule now and consider treating it with some fertilizer to help spur growth. If there are blank spots or other problem areas, you might think about calling in a pro for help. Dirty windows and old mulch can certainly take away from your curb appeal, but a yard full of dead grass? That can really kill it.
LOOKING TO PURCHASE A HOME? – Any of our experienced agents can help you find that perfect dream home you have been looking for, or you can start your own custom search online by visting our website ANYTIME! Goto www.CountsPanamaCity.com to start YOUR CUSTOM experience today! Here are a few categories to help get your started!
BAYFRONT HOMES FOR SALE | TYNDALL AFB HOMES | THE COVE | ST. ANDREWS HOMES
TAKE A FREE TOUR RIGHT FROM THE COMFORT OF YOUR OWN DEVICE
3113 Lawton Ct – $324,000 – 4 BED | 2 BATH | 2,163SqFt – VIEW LISTING DETAILS
6821 Hilliard Street – $1,650,000 – 4 BED | 2.5 BATH | 3,003SqFt – BAYFRONT w/Dock
VIEW LISTING DETAILS
UPCOMING EVENTS
Thanks to Destination Panama City, you now have direct access to all events happening within Panama City Limits and MORE!
CLICK HERE TO VIEW FULL EVENTS CALENDAR
Star Wars Day – May the 4th Be With You
May 4 @ 5:00 pm – 8:00 pm
Celebrate Star Wars Day, May the 4th, in Historic Downtown Panama City from 5-8 p.m at the Panama City Center for the Arts.
• This is a family-friendly event
• Storm Trooper Meet & Greet
• Immersive Star Wars soundscape
• Star Wars character scavenger hunt
• Fun activities for kids
• Charity Raffle for cool prizes
• And a lot more!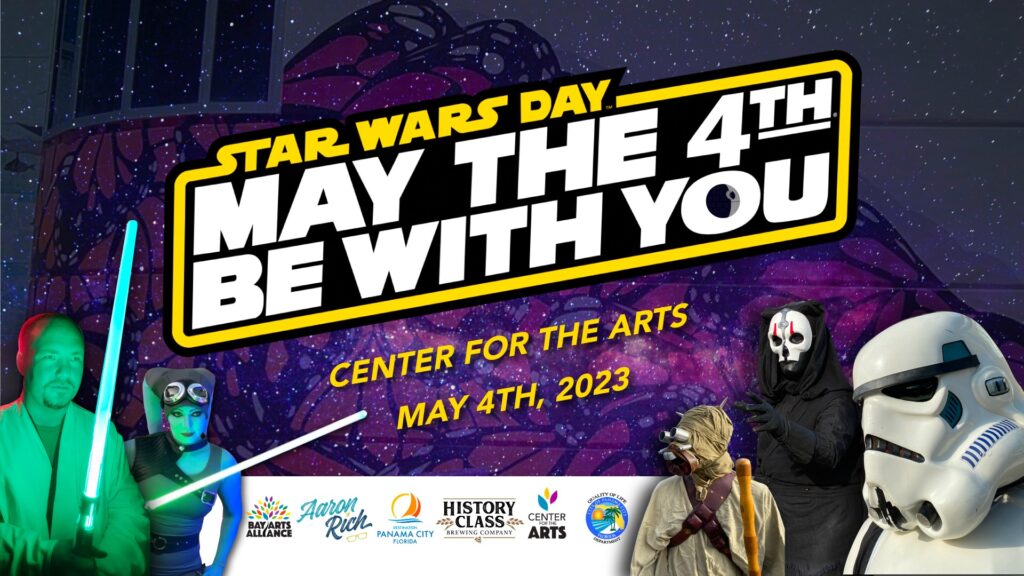 Free
Panama City Center for the Arts
19 E 4th Street
Panama City, Florida 32401 United States+ Google Map(opens in a new tab)850-640-3670
View Venue Website