Food, Fun, and Fall for All…Including Northwest Florida!
That's right, you heard us… IT'S FALL! An absolutely gorgeous time of year here in the Northwest Florida Panhandle, where local Floridians still get to experience more than just summer like our southern friends. Fall brings about a golden glow that can be found across most of Bay County, and creates some of the most beautiful sunsets you will ever set your eyes upon. Why not anchor in that perfect home to showcase them from? We have plenty of Bay Front homes for sale that could capture your interest, or perhaps some waterfront condos not so close to the beach and affected by the busy tourism of the beach!
SEARCH BAY FRONT HOMES | FIND BAY FRONT CONDOS | PERFORM MAP SEARCH
What is the overall weather like in Panama City, FL throughout the year?
The months of March, April, May, October and November have nice average temperatures.
Hot season / summer is in May, June, July, August and September.
On average, the warmest month is August with 32° Celsius (90° Fahrenheit).
On average, the coolest month is January with 17° Celsius (63° Fahrenheit).
The average annual maximum temperature is: 26° Celsius (78° Fahrenheit)
The average annual minimum temperature is: 16° Celsius (60° Fahrenheit)
More information can be found by clicking HERE
How is the Panama City, FL Housing Market Performing?
MEDIAN SALES – Past 3 Years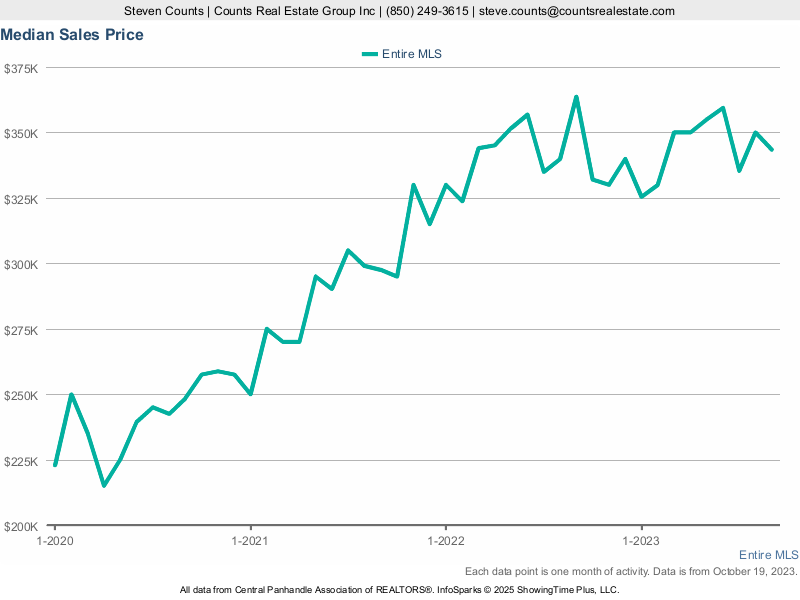 NEW LISTINGS – Past 3 Years
CLOSED SALES – Past 3 Years
FOOD, FUN, & LOCAL EVENTS
Just because it's starting to cool down, doesn't mean the locals are! It's the perfect time of year for festivals, food, & fun in Panama City, FL! Here are just a few upcoming events taking place, but definitely make sure you "stop by" DESTINATION PANAMA CITY to see ALL events and details!
FEATURED HOMES FOR SALE IN PANAMA CITY, FL
$310,000 – 4 Bed | 2 Bath | 1,787 SqFt
VIEW DETAILS
Welcome to Olde Town Village! Go check out this nice 4 bedroom, 2 bath home. The floor plan is available. The kitchen is open and spacious with a center island. The master bedroom is just off the living room and has a dual sink vanity, soaking tub, separate shower and a walk in closet. The home has vinyl flooring and carpet in the bedrooms. Home was built with the Smart Home package. Close to downtown Panama City, Panama City Beach and the airport.
$2,000,000 – 6 Bed | 4 Bath | 3000 SqFt
VIEW DETAILS
Brand New Construction Completed! Just finishing final punch list items. Now is the time to get the beach home of your dreams. Home is 3 story, 3,000sqft., 3 HVAC (one units on each floor), 5 bedroom, 4 bath, garage, metal roof & is 1/2 block to beach with balcony views. Pool to be complete within 30 days Buyer to verify all information. Sparkling pool and loaded with features and amenities.
$239,000 – 3 Bed | 3 Bath | 1288 SqFt
VIEW DETAILS
This beautiful 3 bed/2 bath split floor plan home on the cul de sac is move in ready and waiting on a new owner. You will love everything about this home from it's oversized driveway all the way back to the screened in patio inside of a private, fully fenced large back yard. For the cook of the home there is no worries with the 2021 appliance suite, new sink fixtures, eat on bar and double pantry.
INTERESTED IN SELLING YOUR HOME?
We understand that it can be a difficult decision to sell your home, vacation rental, or any other real estate property! Why not check with some of the best in town to make sure you are getting the best value out of your investment or even to get a starting guideline on what you should do! We have plenty of tools and agents standing by waiting to assist you with your next real estate transaction, and when it comes to your investments…"Experience Counts".
Selling Tools:
Home Valuation Tool – Find out how much your home or property is worth instantly ON YOUR OWN!
Real Estate Agents – Our office has dozens of agents to help you through your transaction. Click to find the one that best suites you!
Home Valuation Request – Give us a bit more detail behind your property and a specialist will be right with you!
Freekin' Bats – YUM!
70 Calories, 3 1/2g Total Fat, 1g Protein, 10g Total Carbohydrate, 6g Sugars
Chocolate Bat Cookies
Prep 55 Min
Total 2 Hr 5 Min
Servings 48
Ingredients
3/4 cup butter, softened
1 1/3 cups granulated sugar
1 egg
1 teaspoon vanilla
1 1/2 cups Gold Medal™ all-purpose flour
3/4 cup unsweetened baking cocoa
1/8 teaspoon salt
2 tablespoons red cinnamon candies (96 candies)
Black decorator sugar crystals
Steps
1In large bowl, beat butter, granulated sugar, egg and vanilla with electric mixer on medium speed, or mix with spoon. Stir in flour, cocoa and salt. Divide dough in half. Flatten each portion into a disk. Wrap in plastic wrap; refrigerate 1 hour.
2Heat oven to 375°F. On lightly floured surface, roll one portion of dough at a time 1/8 inch thick. (Keep remaining dough in refrigerator until ready to roll.) Cut with 4 1/2×1/2-inch bat-shaped cookie cutter. (If dough becomes too sticky to cut, refrigerate 10 minutes before rerolling.) Place 2 red cinnamon candies on each cookie for eyes. Sprinkle with sugar crystals. On ungreased cookie sheet, place cookies about 1 inch apart.
3Bake 8 to 10 minutes or until edges are set. Cool 1 minute; remove from cookie sheet to cooling rack.